Book Your Virtual Fitness Class Now
All workers may be reached and motivated with virtual fitness solutions, regardless of where they live or work.
The demand for flexible and egalitarian employee health and fitness programmes is increasing along with the number of remote workers. Our virtual fitness solutions engage employees through digital and mobile technologies fueled by human connection. Our services allow employees immediate access to on-demand exercises, Livestream courses, nutrition information, virtual personal training, health coaching, equipment resources, and inspiring health challenges.
What is a virtual workout class?
Virtual fitness classes are instructor-led exercises you and your employee may do at home that are prerecorded or streamed live. These online sessions are a great way to keep your employee safe and healthy, but access to them may need membership in your fitness facility.
While running or taking a stroll around the neighborhood might be a fantastic workout, there are other ways to exercise at home. Visiting the gym fosters a sense of belonging and offers a high degree of drive. Your employee may get the same effect from their living room, bedroom, or any other place in their home by taking virtual workout courses.
People of all ages can benefit from taking virtual exercise sessions. You may locate a fitness class from home for your employee that challenges and inspires them.
Your employee can receive the same high-quality exercise you would in a fitness centre using the power of a virtual platform. Finding online workout programmes that are worthwhile for a subscription and offer top-notch training materials may assist create a gym-like experience at home.
The Benefits of Incorporating Virtual Fitness Classes into the Workplace
employee engagement.
Virtual classrooms provide greater autonomy and lower learning and development costs, so many companies find virtual classes so successful that they completely phase out on-site training. Could online courses play a crucial role in your employee training programme? They will if you desire to receive any of the following & benefits.
Improve Online Training Returns

There are no travel costs, venue rental fees, or printed training materials. Although they need investment, web conferencing technologies do away with most, if not all, of the expenditures related to conventional training. Your profit margins will be more comprehensive as a result of increasing ROI. For instance, trainers are no longer required to visit every branch. You are also not required to foot the bill for staff members to attend workshops or on-site seminars. Everything is done online to make the most of the online training tools available.

Maintain Autonomy While Promoting Social Learning

There is a widespread misperception that online classes must be completely synchronous. Even though a live event necessitates involvement from all participants, you can also record the session for later viewing and offer additional online training materials to enhance understanding and increase training flexibility. It perfectly balances individual freedom and group interaction. Employees may take part in real-time conversations, learn from the expertise of online teachers, and go it alone to fill in any gaps.

Develop Interpersonal Competencies Online

Virtual classrooms are naturally more participatory and exciting, which makes them the perfect format for teaching soft skills. Even Virtual Instructor-Led Training (VILT) classroom conversations assist your employee in developing their self-confidence and communication skills and their ability to look at things from several angles. As a result, your staff offers better customer service and closes more businesses even when they work from home. Additionally, you may organise skill-development activities that complement the lessons in the classroom, such as wellness webinars and seminars that emphasise active listening or nonverbal signs. Employee training participants may observe abilities in action and spot unnoticed performance gaps with the visual/auditory component.

Promote better teamwork

Working from home may cause members of your team to feel disengaged. The team dynamic suffers since they are no longer physically there with their coworkers. Thankfully, online conferencing solutions improve teamwork and keep everyone in the loop. They may exchange knowledge and suggestions while also getting eLearning feedback. For instance, a worker has trouble understanding a compliance subject. They are encouraged to ask questions and obtain recommendations for online training resources via the VILT format. They can cooperate to accomplish shared objectives and support one another in bridging personal differences.

Ensure That Learning Is Flexible And Scalable

The capacity to grow following your changing demands for online training is one of the main advantages of having a virtual class. For instance, you may invite new team members or organise side events for individualised support, such as breakout rooms where smaller groups meet to discuss a subject or thoroughly acquaint newcomers with the material. Because everyone may concentrate on performance concerns or abilities related to their work responsibilities, VILT is flexible and adaptive. Especially when combined with peer mentoring and virtual classrooms.

Consider Different Learner Preferences And Needs

Employees come from various backgrounds and choose multiple types of training. Each of them contributes something special to your company. As a result, you must be able to accommodate numerous scheduling needs and learning preferences. A wide variety of online training material formats, including presentations, slideshows, and video demos, are supported by web conferencing software. Or, to make the online training experience more personable, you might even ask special guests to share personal tales.

Minimise The Effects Of Online Training On Workload For Employees

It's a common misconception among those who don't work from home that their "pyjama-clad" coworkers have it easy. The opposite is true, as you can see. Remote employees still have to juggle a demanding career and their personal life. They must manage multiple outside distractions and maintain attention to the work at hand. Their attention is captured, and seat time is reduced in virtual classes.

VILT enhances real-world application and knowledge retention. Because everything happens in real-time, employees can quickly discover restricting behaviours and clarify concepts. They still have the choice to pursue extra certification pathways when they have the time. Your employee can join the accompanying social media group for rapid online training advice and tactics.
How to choose the right virtual fitness class for your company
Book Your Virtual Fitness Class Now

Selecting a workout class ought to be enjoyable. That's because exercising ought to be gratifying.
Many people who want to lose weight or improve their health sign up for a fitness class without thinking about whether it's a suitable match for them. Burnout or a lack of follow-through results from this.
Here are our top seven suggestions for picking the best exercise class for your employee. Find out how to accomplish your fitness objectives by reading on.
Choose something you'll enjoy

Exercising might become a hassle if you don't pick the correct activity for your employee. Finding a fitness class your employee loves is the difference between putting up with a workout and having fun while staying healthy.

Perhaps Zumba lessons are a good fit for you if your employee enjoys dancing. Dancing as exercise has several advantages in addition to being enjoyable. On the other hand, perhaps the concept of unwinding and improving your memory appeals to you. If so, you might want to check out a yoga fitness class.

It will be simpler to finish your exercises the more enjoyable the activity is for you. You'll also exercise with others who share your passions, creating a great training atmosphere.

Consider Your Level of Fitness

Examine the various fitness courses and consider your employee's degree of fitness and the instructor's level of expertise. A few techniques are geared toward novices. Other fitness is designed for the employee with intermediate or advanced skills.

If you don't know where to begin for your employee, we advise signing up for a beginner's fitness class. A class that doesn't present enough of a challenge can be advanced more easily. However, you don't want to exert too much pressure and endanger yourself.

Consider Your Goals

Consider your goals while selecting a fitness class, one of our top recommendations. This transcends broader objectives like enhancing your health or decreasing weight. These are admirable objectives, but they probably won't aid in selecting a fitness class.

Cycling lessons, for example, are excellent for calorie burning. Other sessions, like HIIT or pilates, emphasise strength training.

In other circumstances, your employee might prefer a class that provides a range of advantages, like water exercise. These classes are excellent for calorie burning, muscle strengthening, endurance, and heart health. Whatever you decide, make sure the course will help you achieve your objectives.
Whatever you decide, make sure the course will help you achieve your objectives.

Consider Class Size

Learning how to pick a fitness class involves considering the class size. A novice should select a class according to your employees. This is a result of the instructor concentrating more on your employee. Better form and more confidence result from greater attention.

You'll get more outstanding outcomes and a faster path to achieving your objectives. You can get poor results if you don't use the proper form.

Large classes could benefit your employee if you have more experience or competence. A greater skill level indicates a trainer may pay the employee less attention.

In addition, smaller class sizes frequently result in cheaper costs. So, consider enrolling in a larger class if you don't require particular attention.

Consult With Your Coach

Whether your employees are seasoned exercisers or beginners, a trainer is a terrific resource. You can create sensible goals with the aid of a trainer for your employee. They aid in your search for the appropriate workouts.

If you're interested in picking a fitness class, speak with your trainer. They're instrumental if you're having trouble choosing between several exercise classes.

They'll be well aware of your objectives and degree of fitness. Additionally, if your facility provides your exercise class and trainer, they can access additional helpful information. Both the management and employees will give them feedback on specific courses.
How Much Does a Virtual Fitness Class for a Company Cost on Average?
A single fitness class with a professional trainer in a virtual platform could cost between RM 200 to RM 500 per session. If you are interested in subscribing to a package option for your workplace with Engage Life at a cheaper rate, the packaged fee starts at RM 3500 for 10 classes
Types of Online Fitness Classes
Book Your Virtual Fitness Class Now

Yoga
Yoga is a collection of physical, mental, and spiritual disciplines that have their roots in ancient India. They are meant to calm the mind and help practitioners recognise an objective witness awareness unaffected by mental chatter and everyday suffering.
Pilates
In the early 20th century, German physical trainer Joseph Pilates created the kind of mind-body training that bears his name. The name of the Pilates technique is "Contrology." The globe over, it is prevalent, particularly in nations like Australia, Canada, South Korea, the United States, and the United Kingdom.
High-Intensity Training
A training method known as high-intensity interval training involves alternating quick bursts of strenuous or explosive anaerobic activity with short rest intervals till exhaustion.
Dance
Dance is performance art with well-chosen or random movement patterns. This movement is artistically pleasing and frequently symbolic. Dance can be defined and described according to its choreography, movement repertoire, historical era, or country of origin.
Barre
Barre is a type of physical activity typically done in gyms or specialised studios during group lessons. It differs from other group exercise activities since it incorporates ballet-inspired motions and uses a ballet barre.
Indoor cycling
Indoor cycling, often known as spinning, involves utilising a specific stationary exercise bike with a weighted flywheel in a classroom setting. Classes focus on endurance, strength, intervals, high intensity, and healing.
Aerobics
Aerobics is a type of physical activity that mixes rhythmic aerobic exercise with stretching and strength training exercises to improve all aspects of health.
Tips For Hosting a Live Or Virtual Fitness Class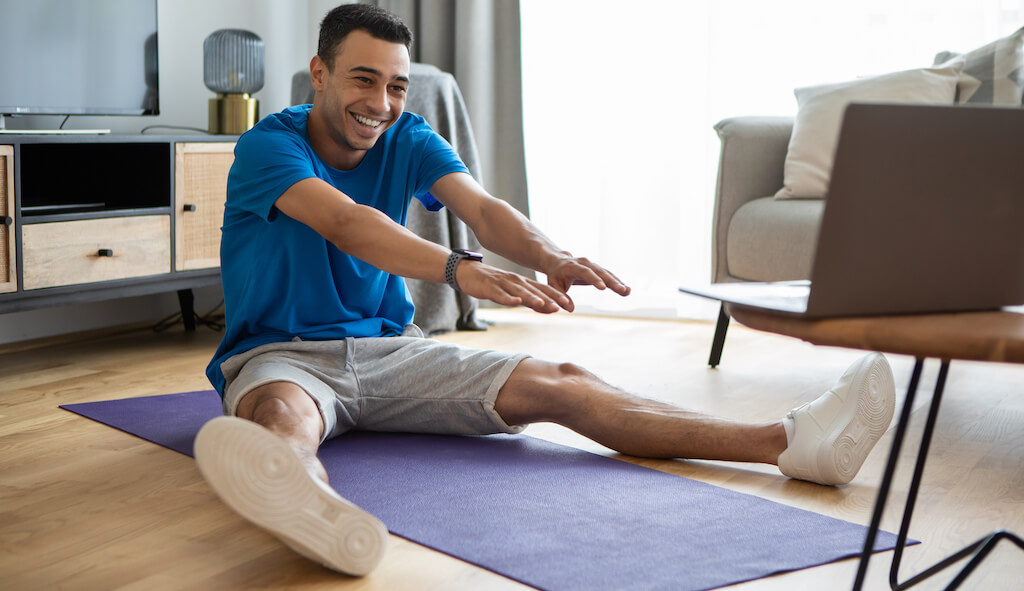 Basic video creation is becoming more critical in the training and teaching industry as virtual group fitness and live workouts online gain popularity that rivals in-person fitness for many.
Virtually teaching fitness courses requires patience and thoughtfulness that isn't frequently expected. You are faced with the issue of producing high-quality output with the limited resources you have because not everyone is equipped with a fitness studio or sophisticated camera equipment. It might be intimidating to try to capture a live fitness class or virtual workout because there are so many crucial details to consider. However, with practice, you may learn to feel more at ease and steer clear of frequent issues.
Here are our top 7 suggestions for anybody planning to lead a physical fitness class in person or online.
Be punctual

Being on time is crucial for an excellent virtual fitness class for many of the same reasons that we advise being comfortable with your platform and having a backup plan. It's simple to lose enthusiasm to attend future classes for anyone who has invested time to attend your class after one negative encounter, especially a horrible first impression. There's always a potential that you may be watching for the first time, just like with in-person exercise. When you need to be physically there, traffic delays can never get in the way, but technology-related errors are far more likely. Give yourself plenty of time, just like you would if driving, in case of any technical difficulties before the lesson starts.

Set up appropriate lighting

Daylight and softer lighting are the best lighting conditions. The lighting specific to your environment will determine how soft the light is. It is best to film in the early morning or as the sun is sinking since too much light in bright areas might feel overexposed. The middle of the day would be the best time to film if your location lacks natural light. With the right illumination around you rather than behind or above, you can record in the evening if you cannot do it during the day.

Camera placement is crucial

Avoiding shaky footage is as crucial to the quality of your film as lighting and backdrop are. To prevent shaky footage, phones or other recording equipment should ideally be placed on a tripod or level surface.

If you don't have a tripod, you may use a workaround by placing your phone on a flat, stable surface like a table and leaning it against another firm object, exposing the top of the phone's camera. It might be helpful to check for skewed video and ensure you remain level if your phone has a feature that lets you overlay a grid on the screen.

Consider your audio setup

Always talk clearly and loudly enough to be heard close to your recording equipment when speaking. If you must talk throughout your routine, make sure to speak as loudly as possible without losing clarity. If necessary, pause to ensure that your voice is audible. A microphone for your phone might be an excellent option if you still experience audio issues or want to sound more professional. Numerous microphones in various pricing ranges are available for Android and iPhone.

Choose a setting that minimises distractions

Consider whether any additional household distractions or background sounds can obstruct your shooting, and take steps to eliminate them by preparing ahead and alerting neighbours of your plans. Place a note at your door to alert possible guests, for instance, if you believe there is even the slightest chance that someone would ring it during your live performance. Keep your pet in a calm environment away from the location you are broadcasting if it is prone to unannounced barking. To prevent audio interference, turn your phone's ringer off as well.
Get Your Employees Moving with Engage Life
Through the Engage Life initiative, Engage Life has an OnDemand or virtual fitness program that aims to promote wellbeing, fitness, and health in the workplace. We have unrivalled experience, a wealth of knowledge, and the drive to advance your business.
By bringing our studio lessons into the convenience of people's homes, we have motivated thousands of people worldwide to reach their fitness objectives. We don't believe in fads or short cures because we know that lasting adjustments to your lifestyle are the only way to get the desired results. So what are you waiting for? Call us right now to book the packages available.