Contact us for Wellness Programs Now
Consider creating a corporate wellness program if you want to enhance your workers' general health and happiness. Wellness initiatives create a workplace culture that prioritizes employee health and promotes output, morale, and teamwork. You may decide whether establishing a wellness program is the best course of action for your business by learning about the various advantages of such programs.
In this post, we define a wellness program and go through the advantages of workplace wellness.
What Is a Corporate Wellness Program and How Does It Work?
A corporate wellness program is an organization's effort to create a healthy work environment by incorporating different healthy activities into the daily work schedule to improve the well-being of its workers. An all-encompassing approach to employee health is necessary to promote a supervisory health culture effectively.
Employees are a company's most valuable asset, and maintaining their physical and emotional well-being enables them to work at their best. In general, a company's productivity and profits are directly impacted by the health and happiness of its workforce. Every business must realize this and invest in employee wellness programs. Investing in a company's most important asset, its workers, would be among its wisest decisions. Always remember that a happy worker is a happy business.
An organization must implement wellness programs activities to improve employee health and help those with particular health-related problems. There are several options at one's disposal, including employee training, staff seminars, and even partnering with a benefits administration platform that offers a range of wellness initiatives. On the other hand,
health-related activities might include anything, even encouraging staff to maintain a healthy lifestyle.
Although creating a successful corporate wellness program requires a lot of work, it gives the business a considerable edge necessary to attract and keep top talent.
Why Corporate Wellness Program Are Becoming Increasingly Popular
Organizations are prioritizing workplace wellness programs more than ever before. Establishing and sustaining these programs may create a work environment that encourages healthier lifestyles and fosters a welcoming workplace culture. It is not surprising that having a structured wellness program in place has become increasingly popular because more and more employers are concerned about the health and wellbeing of their employees.
Wellness initiatives can take many forms, from paid gym memberships that employees can use throughout the workday to events like outdoor "walking meetings" and general social gatherings for all employees. Providing staff with healthy snack options is another activity that businesses may engage in.
The most outstanding talent in the workforce is attracted and retained by businesses that do a fantastic job of promoting these wellness initiatives and making them a priority.
How Do Corporate Wellness Programs Benefit Employees
Contact us for Wellness Programs Now

Healthy employees typically bring a variety of benefits to other employees and the companies they work for, even though the benefits of an employee wellness program may be difficult to notice at first. The following are a few advantages of an employee wellness program.
Increased output

Healthy eating and regular exercise are likely to increase an employee's productivity. High levels of inefficiency are frequently associated with poor health behaviours, which ultimately increase the risk of chronic diseases and health problems.

Positive staff morale

Employees who participate in wellness programs feel valued and respected. When workers feel respected and appreciated by their employers, they are happy. Employee enthusiasm at work frequently increases when wellness programs are offered.

Increase employee retention and recruiting

The best employees will be easier to find and keep for businesses with effective wellness initiatives. When choosing a workplace, many people are greatly affected by the availability of health insurance and other perks. By encouraging loyalty within the workforce, wellness programs also significantly contribute to employee retention.

Decreased absences

Due to healthier and less stressed employees, workplaces with comprehensive wellness programs see lower absenteeism, which reduces costs.

Lessening of health risks

Lowering health risks involves encouraging employees to adopt healthy habits, including eating well, exercising, and quitting tobacco. Low health risks result in lower expenses for medical care.

Fostering teamwork among employees

Some programs give workers the ability to take part in activities that are unrelated to their jobs, such as joining a sports team, going to the gym, or eating lunch together. Working together fosters teamwork through fostering bonds between coworkers.
How to Find the Right Corporate Wellness Program for You
When selecting the best wellness program for your workers, there are numerous things to consider. The following are the most crucial aspects to consider when choosing a corporate wellness program for your employees.
Accurate health risk assessments

Look for a business that provides biometric checks for employees. This will help to determine each employee's level of risk. Afterwards, this will produce a tailored plan on what is ideal for each of your employees and your company. Since personnel hazards and workplace objectives differ from company to firm, customization is essential.

Program elements

Choices are necessary, even those for health insurance. Many businesses utilise their health care benefits as wellness marketing to entice potential new hires. For instance,

employers tempt potential employees with free gym memberships, yoga or meditation sessions, wellness challenges, and other perks.

Validated efficiency

Work with a wellness program provider with many results that can be measured and demonstrated. While different wellness programs need varying degrees of dedication, every program should promise outcomes.

Reporting

Work with a business that offers complete, real-time support for corporate health. You desire sustainability even after integration and outcomes are obtained.
How to Launch an Employee Wellness Program in Malaysia

Let's talk about how to implement a successful program now that we've discussed the advantages of a wellness program. Here are some fundamental actions to take to launch an employee wellness program at your company.
Set goals that benefit the company & staff

Although developing a wellness program might be enjoyable, remember why you are doing it. Ensure that every aspect of your program benefits the workforce and the business.

Form a team to create the employee wellness program

Putting together a team for the project is a brilliant idea because it might take a lot of time and effort to develop a thorough wellness program. The team will probably be headed by HR, but it should also consist of CEOs, financial experts, and other supporters of a positive work environment.

Start working on the program's planning

Once you have your team in place, begin developing the structure of your program. Create a budget, conduct research, and solicit suggestions from your staff. Call a company-wide meeting when the timing is appropriate to introduce the new wellness initiative and go through the specifics. Make sure your team knows everything it contains to make the most of it.

Optimize your wellness program by getting feedback.

A productive staff wellness program is perpetual. So that the program may be improved and employees continue to get healthier, your staff should always be open to suggestions and new ideas.
The Cost of Corporate Wellness Programs and Whether or Not They Are Worth the Investment
Contact us for Wellness Programs Now
Engage Life has worked with businesses of all sizes and in various sectors for years, and we have often seen the value of wellness initiatives. A clear return on investment may not immediately influence the bottom line, but it can have a long-term investment return.
More importantly, they have been demonstrated to have a favourable effect on staff morale and general wellbeing, which translates to higher job productivity and, thus, a better bottom line. Additionally, as part of an employer's employee value proposition, wellness programs aid in attracting and retaining top talent, which is crucial for businesses looking to hire and keep employees in a fiercely competitive market..
Why Engage Life Is the Best Wellness Program Provider in Malaysia

Corporate wellness programs with Engage Life are designed for your employees to help them learn how to eat better, live healthier lifestyles, and support them in reaching their wellbeing objectives. We can assist you, and your staff in maintaining good health and physical fitness, boosting job satisfaction, and increasing energy. Companies and organizations can minimize expenses, enhance productivity, and decrease absenteeism by offering corporate wellness programs to their staff.
Moreover, to make your wellness program exciting and engaging, Engage Life offersan online platform and app which can be used to track their wellness progress, engage and motivate each other as well as earn/redeem rewards through their achievements.
5 Reasons Your Company Needs a Corporate Wellness Program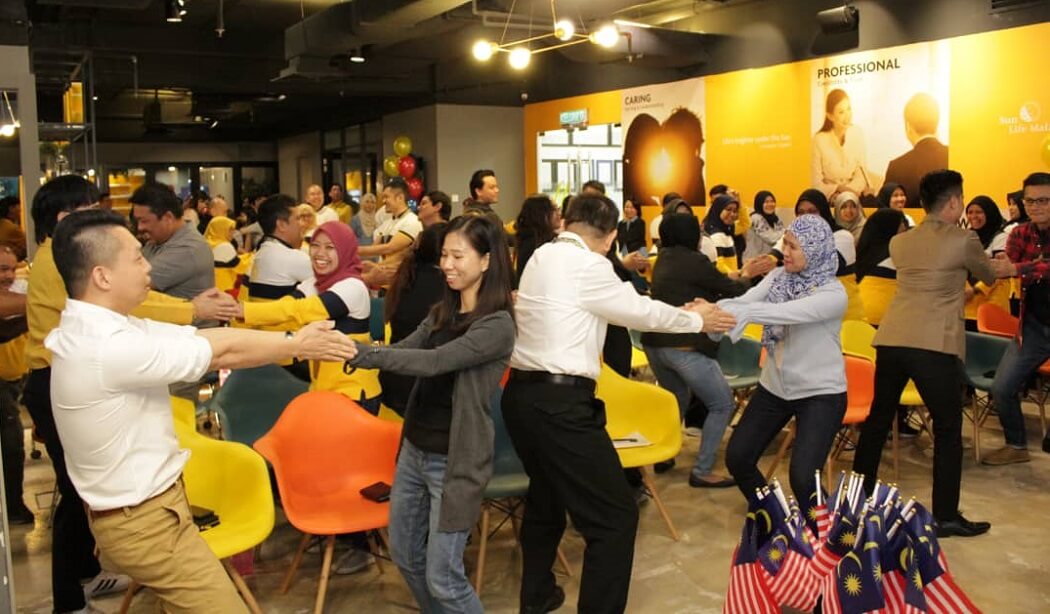 Boost output and inspire creativity

With a corporate wellness program at your place of business, your workers will have greater mental clarity and be more productive.

We all want our teams to perform at their best, but daily life's demands and stress can occasionally interfere with that. Staff can enjoy and unwind with the programs conducted in the workplace.

Studies demonstrate that one of the many advantages of launching an employee wellness program might increase mental acuity and productivity. Getting heat up the body with a wellness program can also spark your imagination. You'll frequently discover that you come up with your best ideas when you divert your attention for a time and give your brain a rest.

Reward your staff for their efforts and accomplishments.

Give your workers a corporate wellness program to boost their sense of worth and encourage them to keep up their outstanding performance.

Everybody has the right to feel appreciated and cherished by their employer. Rewarding employees as part of your wellness program recognises them for their accomplishments, diligence, or well-done job.

For instance, on the Engage Life app, employees are free to choose and redeem rewards of their choice using a point system that is earned based on their accomplishments throughout their wellness program.

Improve the physical and emotional wellness of employees

Give your team access to the advantages of wellness programs to keep them happy and healthy.

You have a wellness program to look after your staff's physical and mental wellness is more crucial than ever. Because of its many advantages, employee wellness programs should be a regular part of your healthy routine, just like working out and eating a balanced diet.

A quick 15-minute chair body warming can boost immunity, lower blood pressure, and improve circulation, all of which can help cut down on workers' sick days during the cold and flu season. All-day desk work can be painful, and it can also be bad for your general health. By relieving aches, pains, and other types of muscular and joint discomfort, corporate massages help counteract the detrimental consequences of sitting.

Reduce workplace tension and stress

By offering a corporate wellness program at work, you may actively lower stress while increasing the feel-good chemicals in your employees' bodies.

Even in the best of times, the business world can be fast-paced and stressful. Due to the enormous demands and stresses of daily life, this is unavoidable. If your team brings it home with them at the end of the workday, it may even adversely affect their personal lives. Because of this, emphasis on the value of mental health has lately taken centre stage in employee wellness initiatives. But did you know it can be as easy as having a routine corporate wellness program for your staff?

Wellness programs can help your body produce less cortisol, an essential stress hormone, one of its many advantages. This relieves stress related to work and may even enhance the quality of your nighttime sleep. You will feel revitalized and re-energized when prepared to face the workday. A happier office and maybe improved connections between coworkers and clients result from less stress at work.

Improve workplace culture and employee retention

A corporate wellness program can show your employees that you are concerned about their welfare and boost employee loyalty.

A high employee turnover and high absenteeism rates can be expensive for your company. It's easy yet effective to show your team that you care about their welfare by implementing a corporate wellness program at work. Promoting a culture of teamwork, loyalty, and respect among your staff will help them feel appreciated and respected. This can help you attract and keep essential personnel and establish yourself as an employer of choice.
Tips for Getting the Most Out of Your Corporate Wellness Program
Contact us for Wellness Programs Now

It can be challenging to persuade individuals to participate in corporate wellness programs, even though you've probably heard them touted as investments that keep workers healthier and increase productivity at work. Fortunately, there are several things you can do to improve the efficiency and appeal of your workplace wellness program to employees.
Here are four ideas you can use to begin going:
There is no "correct way."

"Wellness program" isn't genuinely defined in a formal sense. Anything from offering health education materials to bringing preventive services into the workplace might be included in your wellness program. Depending entirely on your corporate culture and aims, you can incorporate a wide range of items into your program.

Many people are persuaded that extravagant and pricey wellness bonuses are necessary for employee wellness. Simply said, that is untrue. Your application might be as complex or as straightforward as you require. Don't get caught looking for guidelines, standards, or the proper approach to practice wellness. All those things don't exist.

It's crucial to be inclusive.

The idea that employee wellness excludes those with preexisting medical issues is a frequent misperception. Many people are concerned that fitness is only effective for those already in reasonably good health. If that's the case, the wellness program isn't being executed properly.

Although you cannot compel employees to participate in your wellness program, you must make it available to all your staff members. Make plans for any potential limitations or health issues, and modify your wellness activities as necessary.

It really is effective.

There is no justification for harbouring doubts about the value of employee wellness. It is. There is a tonne of research to support this. In fact, 59% of businesses said their programs had improved employee health, according to a Kaiser/HRET poll.

Ensure your program is built with evaluation in mind if you want to know if wellness is effective at your workplace. Just as you would with any new business investment, it goes without saying that you'll have metrics to track your immediate ROI. To ascertain your program's longer-term effects, you can track things like biometric health outcomes, productivity, and employee satisfaction year-over-year (YoY).

You're not alone.

Most businesses are starting to consider employee health as a business strategy. Few small business owners contest that a wellness program would suit their bottom line, even though the proportion of smaller enterprises that have started implementing wellness programs is still deficient.

Rising employee wellness attitudes predict a boom in the implementation of wellness programs. One additional benefit and an advantage for your company can come from staying ahead of that rush. Being an early adopter of employee wellness enables you to set your company apart from rivals in your industry in terms of public perception and the attraction of exceptional personnel.
Implement a Successful Wellness Program in Your Company with Engage Life's
Employees under a lot of strain spend 50% more on healthcare and are 40% more likely to leave their jobs. Therefore, businesses must sign up for a corporate wellness program with a Malaysian foundation. A happy and healthy team will advance the company. Malaysia's corporate well-being is increasing as more millennials join the workforce. We will adjust our programs to fit your team's needs and the culture of your business. If you're interested in using Engage Life for your corporate wellness program in Malaysia, read on and do contact us today!